At Three T's commercial work is a big part of what we do in the Great Lakes Bay Region.
We guarantee to be competitive, competent and timely. Communication is very important to this company. Three T's owners will deal with all your needs on every job and give special attention to all work completed.
Commercial Plumbing
Commercial plumbing from Three T's is available for any kind of installation, renovation, code violation, or emergency for your business.
This means when you have a commercial plumbing emergency, we know how important it is to get there fast and solve the problem so that you can get your business back on track. When you have a commercial emergency, call Three T's for fast and guaranteed results.
Three T's Plumbing is a full service plumbing company for new construction and for service repairs.  We have completed two outpatient medical sites for Sparrow Hospital, a doctor's office, Medical building for several doctors, several repairs in restaurants, a few apartment complexes, Fuddruckers restaurant, an 80,000 sq. ft. church, Medical Office buildings, Outpatient medical facilities, apartment buildings, a Wal-mart addition including fire sprinkler system, and various other commercial jobs.
Since 2004, we have been providing reliable plumbing service to commercial properties in the Great Lakes Bay Region. We guarantee all of our work, provide free estimates, and offer honest, flat rate pricing on all commercial jobs. Commercial plumbing and heating is available from Three T's in Bay, Genesee, Huron, Midland, Saginaw, and Tuscola Counties.
Because commercial plumbing jobs are so extensive, we can't list all our services here. Please give us a call for free information and estimates at 989 780-2963. We are your most trusted local plumber, and we are here to help you anyway we can. We understand that even if we don't directly benefit from your business today, we believe you will come back because we are honest, clean, trustworthy, efficient, and knowledgeable.
Commercial service plans are available.  Contact us for more information.
Click on our services below for more information or call us and we will be happy to answer your questions
Commercial HVAC
Our commercial HVAC services will keep your place of business cool during the summer and warm during the winter. We're a company with a reputation built on always putting the needs of our customers' first, offering superior products and unbeatable service.
We provide:
•    Expert installation
•    Reliable maintenance
•    24-hour repair service
You'll be comfortable year-round with no hassle or inconvenience to you, the business owner.
We use only the very finest air conditioning brands, including American Standard and Honeywell. But it's not just the products we use that set us apart. Three T's is devoted to offering you reliable, around-the-clock service that you can truly depend on for all of your commercial HVAC needs.
We stand behind our work with pride. We're confident that in choosing Three T's Plumbing and Heating, you'll be making a decision that you'll never regret.
Whether it's commercial air conditioning service or a commercial heating contractor you're looking for, Three T's has superior service that meets your needs.
Contact us (link to contact page) today for more information. Serving Bay, Genesee, Huron, Midland, Saginaw, and Tuscola Counties
We have service and maintenance agreements designed to suit our customers' individual needs. With more than 30 years of servicing and installing Commercial HVAC equipment we have the experience, the skills and the knowledge to effectively diagnose any air-conditioning, heating or Energy management control issues
Commercial areas we service include:
•    Corporate offices
•    Hospitals
•    Health care institutions
•    Retail stores
•    Hotels
•    Industrial and Office complexes
Areas of specialization include:
•    Chilled water systems
•    Air-conditioning and heating systems
•    Computerized energy management (BMS)
•    Diagnostics and troubleshooting
•    Water tower maintenance and repairs
•    Circulation pumps
•    Boiler maintenance repairs and installation.
•    Temperature controls and comfort solutions
•    Building management and design engineering
•    Digital control systems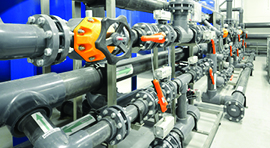 Back Flow Prevention
Annual testing of back flow prevention assemblies is required by law in Michigan. We offer emergency services along with extended hours for your convenience.
Back flow occurs when water pressure drops and water is pulled into your plumbing from an unprotected cross connection in your home or business. Common examples of cross connections include lawn irrigation, fire sprinkler systems, and garden hoses submerged in water.
Back flow-prevention devices stop these contaminants from entering the water system. A licensed plumber must test these devices every year.
Service Plans
You never have to pay extra for emergency plumbing or heating again with our Service Plans. It is our policy to deliver nothing short of 100% guaranteed customer satisfaction.
Energy Consulting
We can help you power your entire business with a photovoltaic array or supplement a percentage of your bill.