A/C (Air Conditioner) Unit Troubleshooting Tips
4 Steps to Take Before Calling Your A/C Contractor
As Michiganders, we don't often see heat waves quite like this, specifically not in the 90s for several weeks. This summer, or at least I feel, has been particularly brutal and we are just getting started! High heat, UV indexes, and humidity have uncomfortable written all over them. Lucky for most, they have A/C to escape the hell-like conditions outside. But what happens when your air conditioner quits working during the hottest heatwave of summer? Here are a few troubleshooting steps before you call Three T's Plumbing, INC to save the day!
1) Check Your Filter!
This might seem like such a small thing it couldn't possibly prevent your air conditioner from working properly, could it? You'd be surprised how much damage a dirty filter can cause. The built-up dust and debris on a filter prevent the furnace from being able to take in cool air. When the filter becomes severely clogged, the lack of airflow can cause your furnace to overheat and quit working. The average household needs to change their filter about once every 2-3 months. (Yes, your furnace and central A/C are connected.)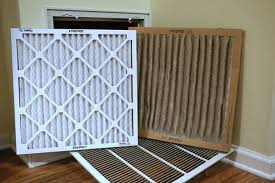 2) Check Your A/C Condenser Unit!
You can find your condenser unit outside of your home, typically a gray metal box shape. If you're A/C isn't working right you'll want to make sure that all the debris, dirt, and grass clippings are cleared from the unit itself. If you find your unit is excessively dirty you can turn the power off to the unit and clean it by clearing the larger debris, then spraying it down well with a garden hose.
You'll also want to be sure that the condenser seems to be working right. You can check this by turning you're A/C system on, waiting a few minutes, and then standing by the condenser to listen for the fan/motor. It should sound like a car idling or a large area fan. If you hear clanking, banging, or unusual sounds give Three T's Plumbing, INC a call to service your unit.
3) Check Your Thermostat!
When checking your thermostat, there are a few things you should be looking for. Are the batteries still good or are they getting low? Is it flashing an error code? Does the temperature on the screen seem accurate or is it wildly off? A wonderful investment for any home is a smart thermostat. You can CLICK HERE to learn more about smart thermostats.
4) Check Your Air Vents!
Take a walk through your home and make note of the vents. Are any of them covered? Did any vents get closed off or blocked on accident? If your vents are not visibly blocked and the air conditioner itself seems to be working fine, you may consider having your vents cleaned by a company like Stanley Steamer. Vent cleaning will clear any buildup in the ductwork of your home. An average home should have its vents cleaned at least once a year or every other year and more often if you have pets.
If you go through all these steps and find yourself with no solution it is time to give your local HVAC contractor a call. Here at Three T's Plumbing, INC we set up a BASC Service Plan to help prevent unforeseen problems with your furnace and A/C. With our plan you have your system checked yearly and get discounts on repairs if needed or other work throughout the year. CLICK HERE TO FIND INFO ON OUR BASC SERVICE PLAN!
Finding yourself in a pickle and need work done or a replacement HVAC system? No problem! Here at Three T's Plumbing, INC we are committed to providing the best, family-friendly experience possible so we've teamed up with a third-party financing company to offer payment plans to qualified credit. CLICK HERE to learn more.