Condensing Boiler Upgrade
Making The Switch To A High Efficiency Condensing Boiler
Wouldn't it be nice to turn on your heat in the Winter and not have to worry about the bill to follow? Heating your home can be costly, especially if you have propane gas instead of natural gas, but it doesn't have to be. Upgrading your heating system to high efficiency can save you hundreds a year. Not only do high efficiency units heat your home more effectively, which in return lowers your bill, they also reduce the amount of emissions and therefore are better for the environment. There are two main systems to heat your home, a furnace or a boiler system. A furnace heats your home by forcing heated air through ducts throughout your home. While a boiler uses either natural gas or propane to heat water that will heat your home. If your home is heated by a furnace CLICK HERE to find out more about switching to a high efficiency furnace. If your home is heated by a boiler keep reading to find out more about the benefits of switching to a high efficiency condensing boiler.
How Boilers Work
Boilers are the most efficient system you can get for your home. There are two main types of boilers that can be installed in your home, your standard boiler and a modulating condensing boiler. There are also two different ways that the heat created by either boiler can be carried to the different rooms of your home. Homes may have a boiler system that delivers heat through steam radiators or a system that delivers heat via in floor radiant heat or baseboard radiators. A steam radiator has steam that is created by your boiler and carried through pipes to each room's radiator. The baseboard radiators work by carrying hot water created by your boiler to the baseboards where cold air from the room will be drawn in and over the hot water, thereby heating it, and returning it to the room.
In floor radiant heat is by far the most efficient delivery system of the three because it carries that hot water created through pipes under the floors of your home. The heat rises from the floor up and essentially turns the homes entire floor into a radiator. While it may take longer to initially warm your room up with in floor heat, you'll notice it takes much less to keep the temperature steady, therefore significantly reducing the amount of fuel burned. Still any of the three are more effective than furnaces because air loses heat almost instantly when touching cold ducts and registers on their way to the rooms of your home.
Lower Your Heat Bill
While even standard efficiency boilers are more effective than your typical mid-efficiency furnace, upgrading to a high efficiency boiler can lower your bill even further. Boilers are usually considered high efficiency when they operate at 90% efficiency or above. You can save even more money by upgrading your standard high efficiency boiler to a high efficiency modulating condensing unit. Modulating condensing units increase efficiency by condensing the water vapor in the exhaust gases to collect the latent heat. A condensing boiler can increase productivity by up to 10% or more. The US Department of Energy suggests that replacement of an old unit with a new high efficiency model can reduce your utility bill by up to 50%!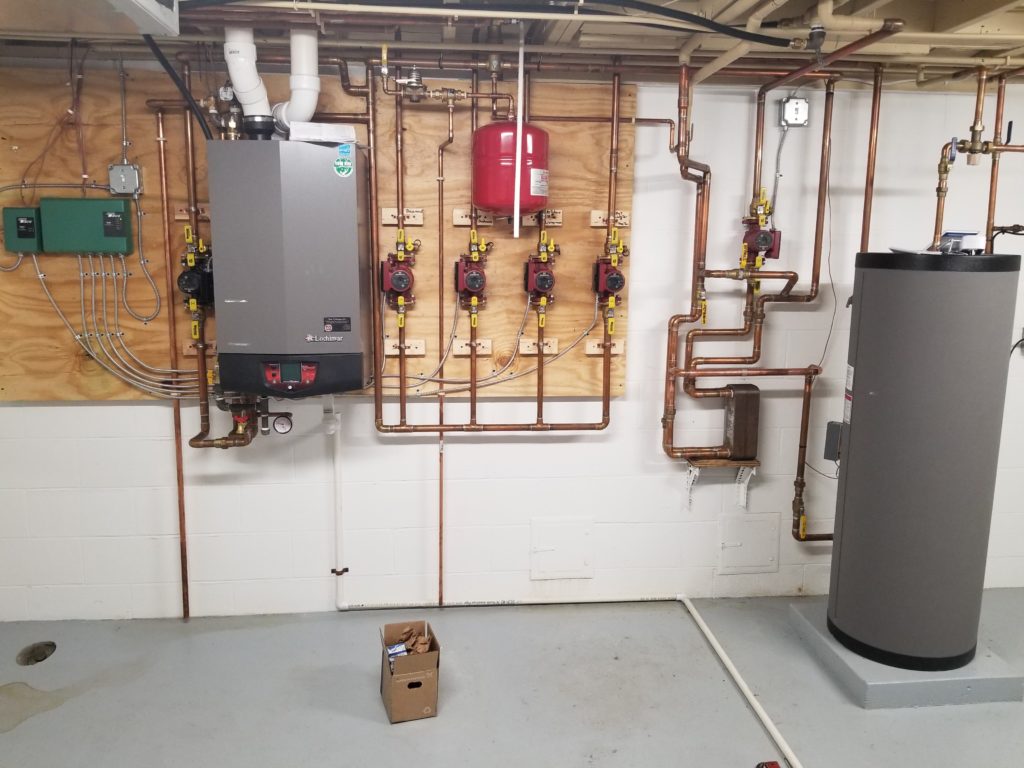 Not only will upgrading save you money, lots of it I might add, it will save you space! High efficiency modulating condensing boilers take up significantly less space than their base model cousins. The condensing units are much smaller and are mounted to the wall rather than free standing, which takes up valuable square footage. An upgraded high efficiency unit also emits less fumes making them better for the planet, too! There really is no reason not to make the switch when the benefits are endless. Now you're probably thinking cost, right?
Upgrade Now, Pay Monthly!
If you don't have extra to upgrade out of pocket don't get discouraged! We now have an external financing option that allows you to upgrade now and make payments monthly for qualifying credit. Ask us how you can apply for FTL financing to find out more. There really is no reason not to upgrade and start saving thousands TODAY! Call Todd at (989)-780-2963 for more information or to schedule your upgrade NOW!