Building your new home can be a stressful and confusing process if you are not well prepared. Knowing what to questions to ask and how each part of the job flows together can make things much easier. Here is a list of questions you may have or want to ask about the plumbing for your new home.
How Long Will Each Step of The Job Take?
How long each phase of the job takes will largely depend on the size and design of the home. Knowing how long to schedule each trade will help you make sure the job flows nicely and efficiently.
There are 3 phases of plumbing in a new built home.
1) Underground
The underground is the portion of the plumbing done under the structure of the home. This is when your plumber will install water supply and drain lines that will be brought up into the home. This can take 1-2 days depending on the size and design of the home.
2) Rough-In
The rough-in phase of your plumbing can take anywhere from 2 days to a week and a half. During this portion of the plumbing, the water lines and drain pipes carrying water to and from each of your home's fixtures will be installed. Fixtures are items like your sinks, toilets, bathtubs, showers, wash tubs, washers, dishwashers, etc. The length of time the rough-in will take in your home will depend on the number of fixtures and the size of the home.
3) Finish
The finish portion of the job can take anywhere from 2 to 5 days. This is when your fixtures will be installed, the final touches. This part includes setting the fixtures we talked about earlier, and putting on faucets, caulking around fixtures, and hook up water supply lines to the fixtures. Again, this depends on the size of your home.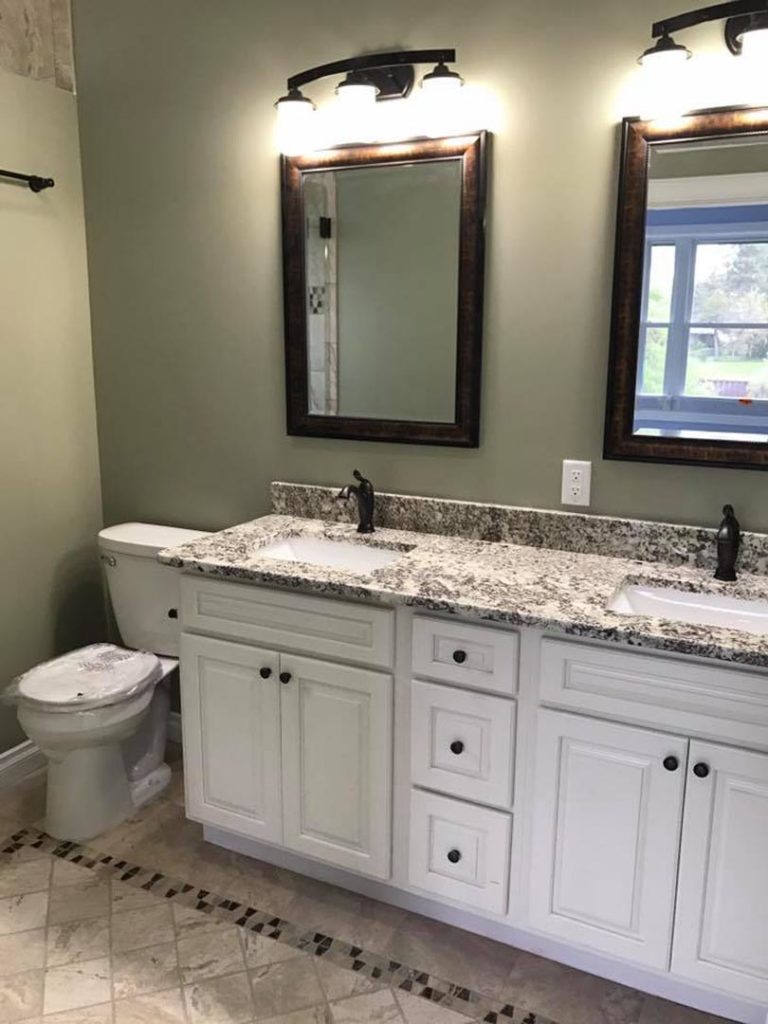 Is My Plumbing Contractor Familiar with Local Codes?
Your new home will need to be inspected after each phase of the job to ensure your new home is ready to move on to the next phase. There will be a plumbing inspection after the underground, rough-in, and the finish.
So, you will want to make sure your plumber is familiar with the local plumbing codes so that an inspection will not need to be repeated. Three T's Plumbing, INC is familiar with and offers services for new homes in Bay, Saginaw, and Tuscola Counties.
Does My Plumbing Contractor Provide Fixtures or Do I?
You can do this whichever way you prefer. Fixtures can be supplied by your plumbing contractor or you can go to the supply stores to supply them yourself. Often, it will be easiest to pick the fixtures out and have your plumbing contractor supply them. This way you can be sure what you choose will work in your home with the layout you've chosen. Working directly with your plumbing contractor to choose fixtures can prevent a lot of headaches and confusion. Ask your plumber for recommended supply houses and brands in your area.
What Does the Estimate Include? Is This My Final Cost?
Your plumbing estimate will include the estimated total of the hourly rate, cost of supplies, cost of fixtures if your contractor is supplying them, and the cost of any permits needed. However, if you are providing your own fixtures, that cost will not be reflected in the estimate and you will be responsible for making sure they arrive at the job site at the time needed by the plumber. This is your final cost if no changes to your fixture list or layout of the home arise. If there are changes a change order will be required and an additional charge will occur.
What Could Cause Changes to My Final Price?
Changing the layout or fixtures after the estimate will result in changes in price. Knowing ahead of time what fixtures and the style and size of each fixture you want can prevent any changes in your final cost.
Having a professional and friendly plumber will help make the process of plumbing your new home a breeze. Remember, communication will prevent unforeseen charges and ensure your project is done efficiently. When you are ready to build your new home contact Three T's Plumbing, INC for your residential plumbing needs. We service Bay, Saginaw, and Tuscola Counties in Michigan. You can reach Todd, our master plumber, at (989)-780-2963.