Spring Air Conditioning Maintenance
We are coming out on the sunny side of a long, grueling winter and it's quickly approaching summer. Before the hot weather hits, you will want to be sure that your air conditioning system is working properly and is ready to keep you comfortable during the hot, sweaty summer months ahead. A few simple steps can get you ready for a cool, comfortable home this summer.
Clean Your Condenser Unit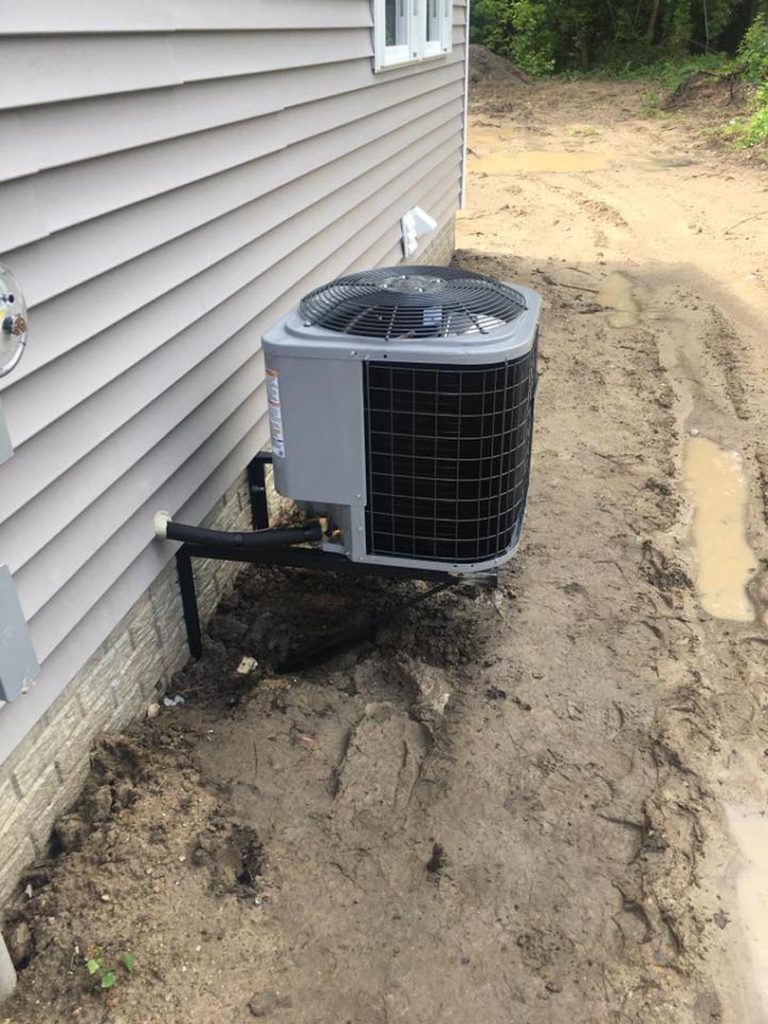 You can find your air conditioning condenser unit on the outside of your house and it will look something like the picture below. During the Fall and Winter months the condenser unit can be covered in dust, mud, debris, leaves, and other objects that obstruct the air flow. An obstructed air flow can not only reduce the efficiency at which your air conditioning system cools it can also burn up the unit. Clear away the objects and debris and then power wash the unit, be sure it is turned off, to make sure it's clean and ready for summer.
Clean the Drainage Hole
The drainage hole is how your system takes the moisture it collects from the air and carries it outside. If the line becomes clogged it can cause leaking in your home, as well as, damage your air conditioning system. Your drain trap for your evaporator coil needs to be cleaned yearly. But without the proper maintenance trap installed this cannot be done without disassembling the drain piping. If your system does not have this easy clean feature you can call Todd at (989)-780-2963 to have one installed for easy cleaning in the future.
Have Your Ducts Cleaned
Having your ducts cleaned at least once yearly will not only keep your system running properly but it will also improve your air quality. You'll be surprised how much dust, dirt, and debris end up in your duct system over time. If left uncleaned all the dust will build up at your furnace and restrict air flow. Restricted air flow can damage your heating and air conditioning system and leave you with costly repairs.
Change Your Filters
About every three months, two if you have pets, you should change your furnace filter. Your air conditioning system uses your furnace to help circulate the cooled air. If you have dirty furnace filters your air flow will be restricted and your system will not work nearly as efficiently. Not to mention, it can cause your furnace to be damaged.
Check Your Condenser Unit Fan
While your cleaning your unit would be a good time to inspect the fan for any damage. If you find that your fan is bent, dented, or damaged in any way you can call us to have it repaired quickly. If you aren't sure what you're looking at or feel uncomfortable looking by yourself you can call us to have your system inspected.
Check to Make Sure Your System Is Working
Turn the air conditioning on and let it run for about a half hour to be sure it is cooling the house and working properly. It's better to check the system now than to find out when you need it most that it is not working correctly.
Schedule a Tune Up Today
Having your system checked for leaks or other problems once yearly can give you peace of mind your home will be cool and comfortable all summer long. It's better to find out now that your system needs repairs than on the hottest day of summer. You call Todd to schedule your tune-up at (989)-780-2963. We service Bay, Tuscola, and Saginaw counties and the surrounding areas.
If performing your yearly maintenance is something you don't feel comfortable doing or something you just simply don't have time for you can call Todd at (989)-780-2963 to schedule to have it taken care of for you!
Stay Tuned For Next Weeks Blog About And Payment Plans For Air Conditioning, Furnace, and Thermostat Replacements and Upgrades.